October 12, 2021
In Memoriam – Daniela Correia Salles, M.D.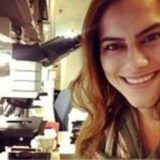 It is with a heavy heart that we share the devastating and unexpected loss of our friend and colleague, Dr. Daniela Correia Salles. Dr. Salles was completing a research postdoctoral fellowship with Tamara Lotan following a clinical Urologic Pathology fellowship mentored by Jonathan Epstein at Johns Hopkins. She was an outstanding pathologist and researcher who led and contributed to a large number of prostate cancer biomarker studies. Always with a smile on her face, she was a vibrant and generous colleague who will be sorely missed. Our thoughts are with Dr. Salles' family as we mourn her loss.
A memorial service took place at Johns Hopkins on October 25 and can be viewed at this link.