• The network will schedule a web conference twice a year (February/March, and September) plus plan an onsite meeting during the ASM Microbe annual meeting (usually in June) to discuss research projects business items.
• An inaugural meeting was held in June 2019 during the ASM Microbe meeting in San Francisco, CA.
• Directors of laboratories that diagnose a significant amount of fungal diseases were initially queried for interest. Membership is open but will initially be limited.
• Members will be asked to contribute to the goals of the group, including participation in projects/working groups and contributions to a biorepository.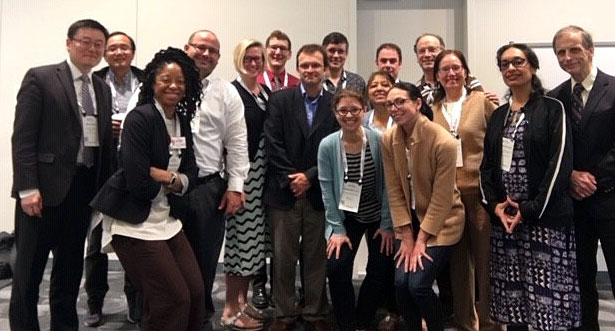 Co-chairs
Esther Babady
Memorial Sloan Kettering Cancer Center
Shawn Lockhart
CDC Myotic Diseases Branch
Sean Zhang
The Johns Hopkins Hospital
| FDLC Member Center | Location | Contact Person |
| --- | --- | --- |
| American Board of Pathology | Tampa, Florida, USA | Gary Procop |
| ARUP | Salt Lake City, Utah, USA | Kimberly Hanson |
| Beth Israel Deaconess Medical Center | Boston, Massachusetts, USA | Stefan Riedel |
| CDC Mycotic Diseases Branch | Atlanta, Georgia, USA | Shawn Lockhart |
| Center for Innovative Therapeutics and Diagnostics (CITD) | Richmond, Virginia, USA | Thomas Walsh |
| Cleveland Clinic | Cleveland, Ohio, USA | Anisha Misra |
| Dartmouth-Hitchcock Medical Center | Lebanon, New Hampshire, USA | Isabella Martin |
| Duke University Medical Center | Durham, North Carolina, USA | Barbara Alexander |
| Fungus Testing Laboratory | San Antonia, Texas, USA | Nathan Wiederhold |
| The Johns Hopkins Hospital | Baltimore, Maryland, USA | Sean Zhang |
| Laboratoire de sante publique du Quebec | Quebec, Canada | Philippe Dufresne |
| London Health Sciences Centre, Vitorial Hospital | London, Ontario, Canada | Jeff Fuller |
| Loyola University Medical Center | Chicago, Illinois, USA | Amanda Harrington |
| Mayo Clinic, Arizona | Phoenix, Arizona, USA | Tom Grys |
| Mayo Clinic, Rochester | Rochester, Minnesota, USA | Nancy Wengenack/Paschalis Vergidis |
| Memorial Sloan Kettering Cancer Center | New York City, New York, USA | Esther Babady |
| New York-Presbyterian Hospital, Weill Cornell Medicine | New York City, New York, USA | Lars Westblade |
| NIH Microbiology Service | Bethesda, Maryland, USA | Amir Seyedmousavi/Adrian Zelazny |
| Ohio State University Wexner Medical Center | Columbus, Ohio, USA | Joan-Miquel Balada/Preeti Pancholi |
| Public Health Laboratory (ProvLab), Alberta Precision Laboratories (APL) | Edmonton, Alberta, Canada | Tanis Dingle |
| Public Health Ontario Laboratory | Toronto, Ontario, Canada | Julianne Kus |
| Quest Diagnostics Nichols Institute | Chantilly, VA, USA | Travis Price |
| St. Jude Children's Research Hospital | Memphis, Tennessee, USA | Heather Glasgow/Randy Hayden |
| Stanford Medical Center | Stanford, California, USA | Niaz Banaei |
| Temple University Health System | Philadelphia, Pennsylvania, USA | Kaede Sullivan |
| University of Alabama at Birmingham | Birmingham, Alabama, USA | Sixto Leal |
| University of Maryland Medical Center | Baltimore, Maryland, USA | Paul Luethy/Kristi (Jennifer) Johnson |
| University of Pittsburgh Medical Center | Pittsburgh, PA, USA | M. Hong Nguyen/Bryan Stevens |
| University of Texas Southwestern | Dallas, Texas, USA | Francesca Lee/Andrew Clark |
| Vanderbilt University Medical Center | Nashville, Tennessee | Lili Tao |
| Wake Forest Medical Center | Winston-Salem, North Carolina, USA | Elizabeth Palavecino |
| | | |