Lab Alumni: Where are they now?
Principal Investigator
Laura D. Wood, MD, PhD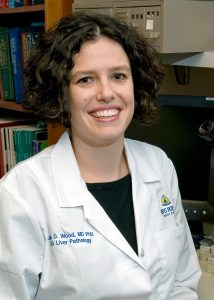 Laura received her BS in Biology from the College of William & Mary. She went on to earn both her MD and PhD from The Johns Hopkins University School of Medicine, where she led the first whole exome sequencing studies in human cancers during her PhD work. She then completed residency in Anatomic Pathology (serving as Chief Resident in her final year) and fellowship in Gastrointestinal and Liver Pathology at The Johns Hopkins Hospital. Laura is currently an Associate Professor in the Department of Pathology, Division of Gastrointestinal and Liver Pathology at the Johns Hopkins University School of Medicine. She leads her own basic science laboratory focused on molecular characterization of pancreatic cancer and its precursor lesions. In addition, she signs out clinical specimens on the Gastrointestinal Pathology service.
Postdoctoral Fellows
Alex Damanakis, MD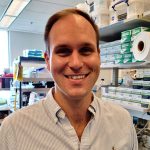 Alex obtained his MD from the Philips University of Marburg School of Medicine, Germany, spending part of his studies at the National and Kapodistrian University of Athens School of Medicine, Greece. He began his residency training at the Department of Visceral, Thoracic and Vascular Surgery at the University Hospital in Marburg and finished his residency training at the Department of General, Visceral, Cancer and Transplantation Surgery at the University Hospital of Cologne in 2018. There, he has been working as a clinical fellow with a translational as well as basic scientific focus. Before coming to the Wood Lab, he was training in major abdominal cancer surgery and surgical oncology. The focus of his research is tissue clearing and three-dimensional imaging of pancreatic ductal adenocarcinoma.
Shalini Datta, PhD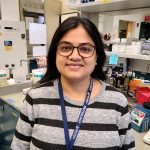 Shalini obtained her MS in Biochemistry from the University of Calcutta. During her PhD research, she focused on quantitative aspects of unconjugated hyperbilirubinemia and GWAS at Indian Statistical Institute, Kolkata. Having always been interested in cancer genomics research, after graduation with her PhD, Shalini served as a Postdoctoral Fellow at Prof. Jessica Zucman-Rossi's lab in INSERM (Paris, France), where she studied the role of AAV2 insertional mutagenesis in the hepatocellular carcinoma development. Shalini then returned to India and independently worked on genomics of stomach cancer in Indian patients as a Ramanujan Fellow at Indian Statistical institute, Kolkata. Shalini joined the Wood lab in January of 2022 with projects related to multi-omics analysis of precancerous and cancerous lesions of pancreas.
Katsuya Hirose, MD, PhD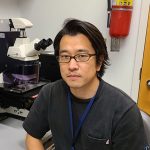 Katsuya received his MD from the University of Tokyo in Tokyo, Japan. In 2014 he started his residency training in the Department of Gastroenterology at Aidu Chuo Hospital in Fukushima, Japan. There he became especially interested in pancreatic cancers and their precursor lesions. He then went on to earn his PhD from Tohoku University in Miyagi, Japan and started his residency training in the Department of Pathology in parallel. He joined the Wood lab in April 2022 to investigate the mechanisms of venous invasion in pancreatic cancers by 3D multi-omics approaches.
Kevin Jamouss, MD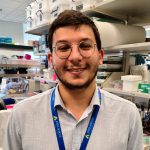 Kevin received his BS degree in Medical Laboratory Sciences from the University of Balamand in Lebanon. He then received his MD degree from the University of Balamand in partnership with Saint George Hospital University Medical Center in Lebanon. He is interested in pursuing a career in oncology with a focus on gastrointestinal tumors. Kevin recently joined the Wood Laboratory with an interest in exploring the underlying molecular alterations behind neoplastic progression in pancreatic cancer.
Hengameh Mojdeganlou, MD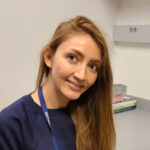 Hengameh received her MD degree from Tehran University of Medical Sciences in Tehran, Iran. She completed her residency in Anatomical & Clinical Pathology at Urmia University of Medical Sciences in Urmia, Iran. During her residency, Hengameh performed research in cancer-related topics in the pathology department. In 2020, she became a member of the Tehran University research center for HIV/AIDS, and in early 2022 she worked as a postdoctoral fellow at State University of New York, University at Buffalo, with the focus on the role of inflammatory cytokines in the pathogenesis of neuropathic pain. Hengameh's current projects in the Wood lab focus on multi-omic approaches to determine mechanisms of response and resistance to chemotherapy in pancreatic cancer. Her future goal is to complete clinical fellowship training in Gastrointestinal Pathology.
Michael Pflüger, MD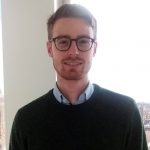 Michael obtained his MD from Goethe University School of Medicine in Frankfurt, Germany. After starting his residency at the Department of Surgery at Charité Universitaetsmedizin Berlin, he joined the Wood lab for a postdoctoral research fellowship. The focus of his experimental work is on development and characterization of novel in vitro cell lines of pancreatic ductal epithelium.
Fatemeh Shojaeian, MD, MPH
Fatemeh received her MD and MPH degrees from Shahid Beheshti University of Medical Sciences, Tehran, Iran, in 2021. Since her early years at the university, she was a member of the University of Tehran Cancer Research & Nano-bioelectronic laboratories. Fatemeh's future goal is to become an Onco-Surgeon and Cancer Scientist to work on the front line of the cancer battlefield. Fatemeh recently joined the Wood lab as a postdoctoral fellow to study the microenvironment of pancreatic cancer and interrogate its invasion using patient-derived 3D culture models.
Doctoral Students
Brandi Glover, BS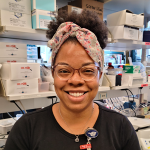 Brandi earned her BS in Biology from Xavier University of Louisiana. She is currently a PhD candidate at the Johns Hopkins School of Medicine in the Cellular and Molecular Medicine program. Her thesis project is focused on interrogating the molecular alterations in precancerous pancreatic cells in organoid models.
Sarah Graham, BS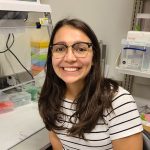 Sarah attended the University of Arizona where she received a BS in Nutritional Sciences. Additionally, she was part of the Ronald E McNair Post-Baccalaureate Achievement Program. Her interests in cancer immunology led her to investigate the mobilization of natural killer cells and T cells in response to exercise to improve allogeneic stem cell transplantation in hematological cancers. Sarah joined the Wood lab as a graduate student in the Cellular and Molecular Medicine PhD program. She is interested in characterizing cellular and molecular alterations in the progression of low-grade to high-grade pancreatic intraepithelial neoplasia (PanIN) to improve early detection methods in pancreatic cancer.
Cheng-Chieh Huang, MS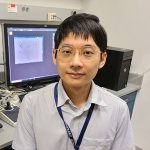 Cheng-Chieh is from New Taipei City, Taiwan and completed a BS in Life Science at National Chung Hsing University, where he conducted research into how protein kinases regulate lamin assembly in cancer cell lines. This experience ignited him to apply for a MS in Biochemistry and Molecular Biology from National Taiwan University. His previous research focused on the relationship between pancreatic cancer and type II diabetes. For his PhD thesis, Cheng-Chieh joined the Wood lab as a graduate student in the Pathobiology program. His research currently focuses on exploring tumor signaling pathways in the pancreatic tumor microenvironment using molecular approaches and 3D organoid models.
Raymond Paranal, BA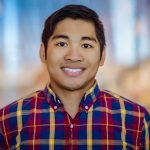 Raymond earned his BA in Chemistry from the College of the Holy Cross in Worcester, MA where he conducted research on protein folding and mis-folding as they relate to neurodegenerative disease. From there, he went on to the Dana-Farber Cancer Institute as a research technician and studied non-small cell lung cancer. Currently as a Human Genetics graduate student in the Wood and Roberts labs, he is interested in studying the genetics of pancreatic cancer.
Jeeun Song, BA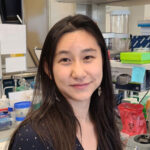 Jeeun read BA Cell & Systems Biology at the University of Oxford, UK and then returned to her native Seoul, Korea to obtain her MD at Yonsei University College of Medicine. In her career so far, she has explored how cells and tissues coordinate change in shape and behavior in different systems, including growth control in fruit flies, Xenopus neurodevelopment, and early mammalian embryogenesis. Ultimately, Jeeun aims to become a physician-scientist uncovering how developmental mechanisms contribute to human disease. She is currently a PhD candidate in the Biochemistry, Cellular & Molecular Biology graduate program at the Johns Hopkins University School of Medicine. In the Wood lab, she uses AI-guided 3D reconstruction of human tissue to characterize novel morphological phenotypes within early precursors of pancreatic cancer and interrogate their origins.
Alejandra Trujillo, BS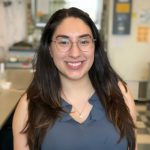 Alejandra moved to the United States from Medellin, Colombia to continue her education at High Point University where she earned her BS in Biology. Her undergraduate interest in cell and molecular biology led her to conduct research on membrane trafficking and the ability for irregularities to cause diseases such as cancer and neurodegenerative diseases. As a previous research technologist in the Wood and Roberts labs, Ale developed an IPMN organoid biobank and established the pancreatic cancer organoid protocols now used in the lab. Recently, Ale joined the Wood lab as a graduate student in the Human Genetics PhD program. She is exploring KRAS polyclonality in normal pancreas to better understand the earliest stages of pancreatic tumorigenesis.
Maria Wissler, AB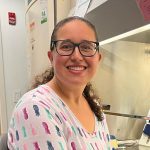 Maria earned her AB in Molecular Biology from Princeton University in New Jersey where she conducted research on phospholipid trafficking by bacterial transmembrane proteins. From there, she went on to Merck as a scientist in Chemical Biology where she worked on programs in metabolic disease, neurodegeneration, and cancer. She is currently a graduate student in the Cellular and Molecular Medicine Program. For her thesis, Maria is interested in studying the tumor microenvironment and its effects on organoid invasion.
Masters Students
Bereket Girma, BS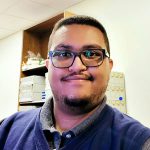 Bereket earned his BS in General Biology from The University of Maryland, College Park. He was part of the First-Year Innovation and Research Experience program where he conducted research in the construction of sgRNA guide plasmid for CRISPR/dCas9 interference of lldP. He is currently a Masters student in the Biotechnology Program at Johns Hopkins. For his thesis, Bereket is interested in studying how culture conditions impact the phenotype of pancreatic cancer organoids.
Postbaccalaureate Students
Lauryn Martin, BS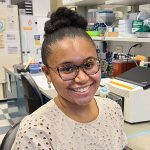 Lauryn received her BS in biology with a molecular biology concentration from Alcorn State University in Lorman, Mississippi. While completing her undergraduate education, Lauryn had the opportunity to conduct research on the characterization of proteins associated with the Mycobacterium tuberculosis cell envelope and Ton B-dependent transporters associated with the human gut bacterium Bacteroides thetaiotaomicron. Currently, she is a participant in Hopkins' PREP (post-baccalaureate research education program), where she will spend the next two years utilizing genomics approaches to analyze mutations in pancreatic cancer precursor lesions.
Research Technologist
Kriti Sitaula, BA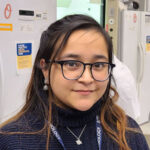 Kriti received her BA in Biology with a minor in Chemistry from Caldwell University in Caldwell, NJ. During her undergraduate studies, she conducted independent research on the effects of Urtica Diocia on Basal Cell Carcinoma. After graduating, she worked for Beckton Dickinson as a Formulation Scientist working on their ID/AST panels. Kriti is interested in pursuing a PhD in Microbiology and Immunology in the future.