Welcome to the website of The Shastri Laboratory of Immune Surveillance! 
(This lab remains open under the direction of Dr. Scheherazade Sadegh-Nasseri.)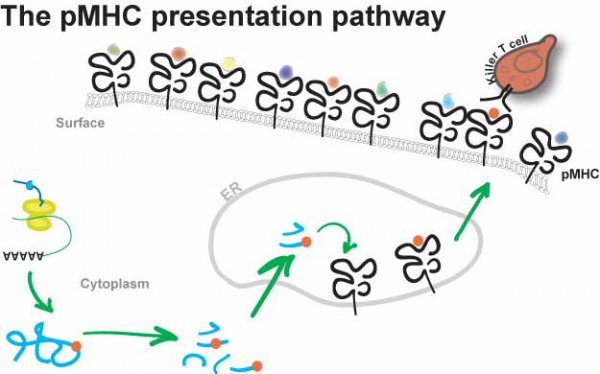 In Memoriam – Nilabh Shastri, M.Sc., Ph.D.
It was with great sadness that we learned that our dear friend and colleague Nilabh Shastri, Ph.D., passed away on Friday January 22nd. Nilabh joined our faculty in 2018 as a Professor of Pathology and of Biology, and a Bloomberg Distinguished Professor.

Nilabh was a pioneer in the area of immune surveillance, exploring the molecular mechanisms behind T-cell activation. His research has had a major impact on our understanding of the mechanisms underlying antigen processing and presentation as well as related fields. His publications have been cited over 14,000 times, and many of his discoveries have become textbook materials. Dr. Shastri's scientific accomplishments are noted for their multidisciplinary approaches to solve significant outstanding questions. His research not only used traditional methods of the discipline, but he also devised novel methods to approach previously unresolved problems. His contributions are relevant not only to fundamental immunology, but also bear upon cell biology, biochemistry as well as more clinical areas of autoimmunity and immunotherapy of cancer.

To list a few of his contributions to science:
Nilabh was the first to discover the role of cryptic translation in the antigen processing pathway. He found that translation of alternative mRNA reading frames even without the conventional AUG start codons contributed to the peptide repertoire presented by MHC class I molecules. Because the underlying molecular mechanisms and the role of cryptic translation in immunity were completely unknown, he followed that initial discovery to define the set of non-AUG codons and to show that cryptic translation was a previously unknown translational mechanism.

Nilabh also identified several T-cell stimulating antigen genes that had remained obscure for decades since their original discovery as genetic barriers to transplantation or targets in autoimmune diabetes. These discoveries were made possible by development of the lacZ reporter assay for T-cell activation. This exquisitely sensitive assay allowed Nilabh to screen cDNA libraries and identify the relevant antigen genes by their ability to stimulate T cell responses. These discoveries have garnered much interest as having solved the mystery of minor histocompatibility loci as well as providing targets for intervention in autoimmunity.

Nilabh and his colleagues debunked the dogma that the final antigenic peptides presented by MHC I molecules were produced only in the cytoplasm. These studies provided the basis for the search of the molecular mechanism for endoplasmic reticulum (ER) proteolysis and led to his discovery of ER aminopeptidase associated with antigen processing (ERAAP). The discovery of ERAAP provided the basis for investigating ERAAP's link to various autoimmune disorders such as ankylosing spondylitis and psoriasis. Nilabh further established the importance of ERAAP by determining that ERAAP-deficient mice were unable to elicit protective CD8+ T cell responses and were therefore susceptible to infections. Additionally, he discovered that an innate-like population of CD8+ T cells monitors ERAAP activity, and this monitoring is inhibited in viral infections and tumors as an immune escape mechanism.

Nilabh received a B.Sc. (1972) and a M.Sc. (1973) from Panjab University in Chandigarh India. He earned a Ph.D. from the All India Institute of Medicine Sciences in 1980. He moved to the US in 1981 as a fellow at UCLA. He joined the faculty at the University of California Berkeley in 1987. Nilabh came to Hopkins in 2018. In addition to being a brilliant scientist, Nilabh possessed special personal qualities. He was a gracious and genuine person, a gentle soul and extremely generous and caring. He lives on in the many people he trained and in the many people he touched.

Nilabh is survived by his wife Amita, their daughter Avantika, a son-in-law Lawrence, and seven year old twin grandsons, Aman and Kiran.

In lieu of flowers, the family asks that you consider supporting Nilabh's favorite charity, NPR (and its local stations KQED in the Bay Area and WYPR in Baltimore).
(posted in the Pathology News on January 25, 2021)